Utica Marsh Map
Utica Marsh Aerial View
Field Trip Guide
Student research projects
Marsh Bird Checklist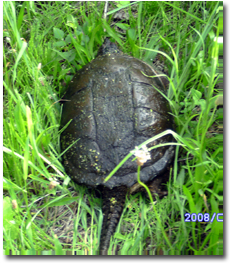 The Common Snapping Turtle (Chelydra serpentina) can be found at the Utica Marsh Usually they can be partially seen (their eyes) swimming through the water. They will leave a trail behind in the duckweed as they go. This snapping turle was seen crossing the trail a short distance from the observation tower. He was on the trail just long enough for us to take a few pictures then he was back to the water.
Below is a link to the Utica Marsh Bird list. The list contains information such as the type of bird, which season they can be seen and how often they are seen. See how many birds you can find on your next walk.

Please feel free to download and distribute the checklist. The checklist is in in PDF format so Adobe Acrobat Reader is required. You may download Adobe Acrobat Reader for free here.



Utica Marsh Bird Checklist